Searching for a self storage unit? Learn the top 10 questions to ask before making your choice.
Hey there, storage seekers! If you're on a mission to find the ultimate self storage unit, you've come to the right place. Think of me as your expert guide, here to answer all your burning questions and help you make the smartest choice. From secret treasure chests to space-saving ninja tricks, we'll explore the top 10 questions you should ask before signing on that storage unit's dotted line. Let's dive in, shall we?
Questions to Ask Before Renting a Self Storage Unit
1. How Much Space Do I Really Need?
It's like Goldilocks – not too big, not too small! Consider the size of your items and opt for a unit that fits just right. For instance, a 5×5 unit is the size of a hall closet. A 10×15 unit fits the contents of a 20′ moving van. A 10×20 is a very popular size as it is the size of a small one car garage. HANDY STORAGE UNIT SIZE GUIDE HERE
2. Is the Location Convenient?
Think nearby! A storage unit that's closer than your favorite ice cream shop is the way to go. This should really be question number 1. We only want to travel approximately 5 miles or less to our storage unit. <— This is true – it is an actual fact. Research which locations are the closest to where you will be storing FROM. Here is a map of our locations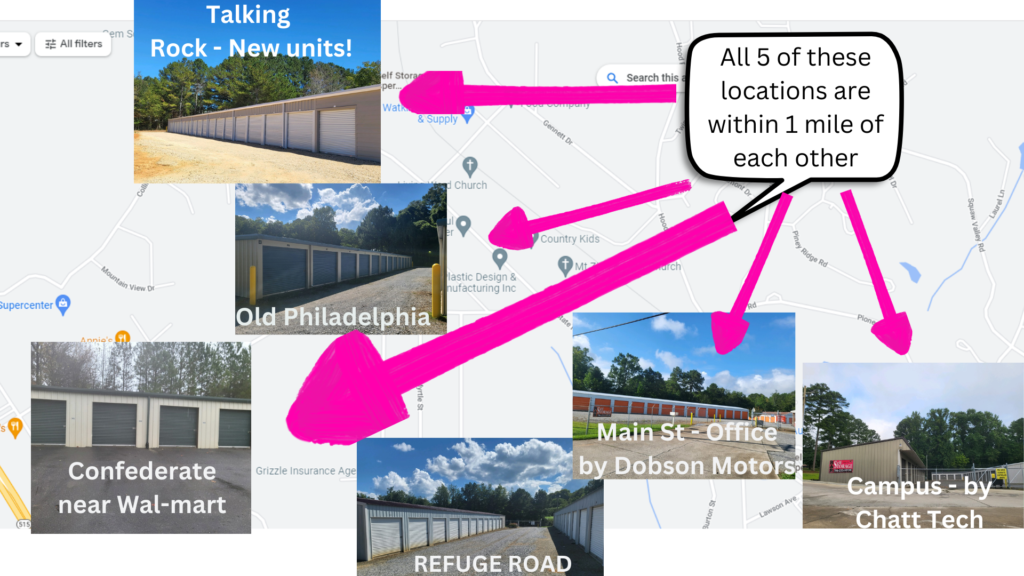 3. What Security Features Are Offered?
I want my stuff to stay safe. I want to put my belongings in my storage unit and know they are guarded and protected. R&R properties (there are 6 in Jasper) have gates with keypad entry – you are assigned a code and my program tells me what time you went through that gate. You have the key to your lock. Only you. The facilities have video surveillance with multiple cameras at multiple angles to surveille the property 24 hours a day, 7 days a week.
4. What's the Monthly Rent and Any Hidden Costs?
Avoid surprises! The Ga Self Storage Association Standard Lease that is used at R&R Self Storage of Jasper clearly lays out all fees associated with nonpayment of the rent. Other than that – we have no admin fee, no move out fee, no credit card fee! Each unit is priced according to size and amenities. Climate controlled units are more expensive than drive up units. Our small units start at $50 per month and increase in price.
5. Can I Access My Stuff When I Need It?
24/7 access is like having your own magic portal to your treasures! At R&R Self Storage of Jasper you have complete control over your unit. You control when to get there and when to leave. YOU ARE IN CONTROL!
6. How Does the Rental Agreement Work?
Our lease is month to month. You are agreeing to abide by the terms of the lease (don't live in the unit, no illegal stuff, pay the rent, etc) and I am agreeing to house your stuff safely in one of our storage units.
7. Are Climate Control and Insurance Available?
Keep your belongings cozy and insured, like a knight with shiny armor. We offer climate controlled storage as well as a protection plan to protect the contents of your storage unit.
8. Do They Offer Moving and Packing Supplies?
No need to be a superhero packer. Ask if they've got boxes and supplies to save the day! R&R Self Storage does not offer moving or packing supplies.
9. Are There Any Discounts or Promotions?
Look for hidden treasure chests! Sometimes, storage facilities offer special deals for savvy seekers like you.
10. Can I Take a Peek Before I Commit?
It's like test-driving a new chariot! Request a tour to make sure the unit fits your storage dreams.
Congratulations, storage wizards! 🎉 Armed with these top 10 questions, you're ready to conquer the self storage realm like a pro. Remember, the key to finding the perfect unit is curiosity and a sprinkle of know-how. Now go forth, find that treasure trove of space, and enjoy the magic of an organized world! If you're itching to learn even more storage secrets, hop over to https://rrstorageofjasper.com/ for extra wisdom. Happy storing, adventurers!